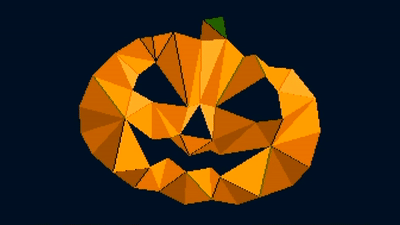 I was at my Amiga 2000 the other night loading this and that scenedemo (demoscene productions) at random, many of which I'd not watched in years, when I ran across a little 40K intro featuring some nifty Halloween-themed elements. With Halloween just a few nights away, that seemed a rather appropriate use of pixellated vectors and it occurred to me to put together a collection of some of the Halloween-themed scenedemos out there for vintage systems, much as I've been doing for the past six years for Holiday / Christmas demos.
I've written a number of posts on this blog about computing memories around the ghoulish time of the year. For instance, there was the year that an Atari ST saved Halloween for me. I will certainly never forget the year that I plunged blade into pumpkin and created the sinister and ghastly iPod-o-Lantern. And I've taken part in several r/Retrobattlestations competitions designed to scare the bytes out of unsuspecting vintage computing aficionados, using an Amiga 1000 on two different occasions as well as an Apple //e.
Indeed, All Hallows' Eve and vintage computing seem to go rather nicely together. So, without further ado, I hope you enjoy the demos I've chosen to scare share with you this season.

C64 – Hokuto Force's Pumpkin Joyness (2016)

Amiga OCS – Syntax Party Crew's RSIDM Halloween Experience (2009)