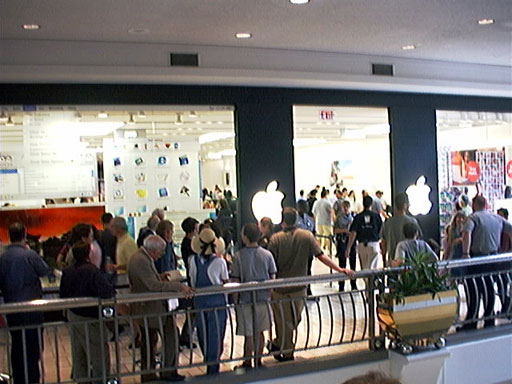 Yesterday marked the 15th anniversary of the opening of the first Apple retail stores, one at Tysons Corner Center in McLean, Virginia and one at the Glendale Galleria in Glendale, California. Together the stores saw nearly 8,000 people and $600,000 in sales during their opening weekend.
The Tysons Corner store was the first to open (VA is three hours ahead of CA), and my wife and I attended the event. With my trusty Apple QuickTake 200 digital camera in hand, I waited in line for an hour and fifteen, captured a gallery of (low resolution) photos of the opening, purchased a semi-translucent blue and white Epson printer (which nicely matched my G3), and headed home to write up the event for MacRumors.com.
My write up is still online at MacRumors (here), but is more readable as captured by Internet Archive (here), with the full post "Read More…" (here).
By the end of 2001, Apple opened 25 more stores within the U.S., and here 15 years later, there are presently 478 retail stores worldwide, across 17 countries (268 of them are within the U.S.). Apple Stores are a huge success and contributed in no small part to moving Apple from "beleaguered" to "most valuable company on earth." On the opening day, however, there were plenty of doubters.
Bloomberg ran a piece on May 21, 2001, entitled Commentary: Sorry, Steve: Here's Why Apple Stores Won't Work. Within, various sources prognosticated failure and doom for Apple's excursion into retail.